Soutpansberg Astronomy Club releases special commemorative publication
8 February 2010
The Soutpansberg Astronomy Club (est. 2002) has been involved in astronomy in Limpopo Province, South Africa for a number of years. Based in the town of Louis Trichardt 100 km south of the Zimbabwe / South African border in the northern Limpopo Province, the Club has enjoyed substantial growth since inception.
Now this organisation has created a commemorative issue of their publication, Limpopo Astronomy Outreach IYA2009. It contains information about various events, including visiting Ridgeway College, a dark sky weekend, planetary festival, Galilean Nights events, and many many more.
The Soutpansberg Astronomy Club provide an excellent example of an active astronomy organisation enthusiastically communicating astronomy to wide audiences.
The newsletter can be viewed online, here: http://www.foton.co.za/Soutpansberg_Astronomy_Club.htm
Search IYA2009 Updates
---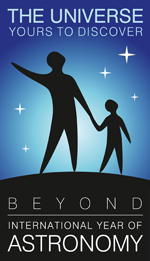 National Nodes: 148
Organisational Nodes: 40
Organisational Associates:33
National Websites: 111
Cornerstone Projects: 12
Special Task Groups: 11
Special Projects:16
Official Products:8
Media Partners:22