International Sidewalk Astronomy Night set for 20 March 2010
8 February 2010
Calling all fun-loving, cosmic-watching, telescope touting, global astronomers! Mark your calendars for the 4th Annual International Sidewalk Astronomy Night - ISAN, on Saturday March 20 2010. Sidewalk groups, astronomy clubs, planetariums, space centres and observatories are gearing up to celebrate with our fellow brother and sister astronomers world-wide.
On this night, telescopes all over the world will be pointed to the cosmos and foster excitement, marvel and wonder in the eyes of the viewing public. Every year the momentum grows and so do the crowds. The word is getting out and new groups participate every year. The stories are overwhelming.
A flyer is available for distribution and translation on the website - copy freely! Help get these flyers into schools, public libraries, and public parks and recreation sites.
Visit the website and post your event here: http://www.sidewalkastronomers.us/id220.html
Based on a notice by Peggy Walker.
Search IYA2009 Updates
---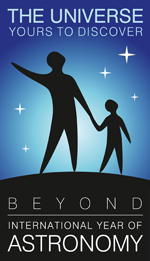 National Nodes: 148
Organisational Nodes: 40
Organisational Associates:33
National Websites: 111
Cornerstone Projects: 12
Special Task Groups: 11
Special Projects:16
Official Products:8
Media Partners:22