IYA2009 News Round-up
28 December 2009
JoonAng Daily have a letter from Seoul National University's Prof. Hong Seung-soo. He's been to one of the last IYA2009 meetings, and decided to write about it along with reflecting on 400 years of human triumph. Prof. Seung-soo hopes that soon we'll have the "Cosmological Year of Astronomy". Do you have any idea how hard that would be to organise?!
Now to The Daily Times which has news from Farmington. Isn't that the setting for gritty US cop drama The Shield, which provided entertainment at an airport once? Let's hope so. Anyway, the E3 Children's Museum and Science Center have been celebrating IYA2009 with educational programmes featuring PLAY-DOH! "I thought Earth would be bigger than it is compared to Jupiter" said the amazingly-named Mistery Miller, who is a volunteer at the museum.
Have you been following the German Aerospace Center's Astronomy Question of the Week as avidly as you've kept up with the IYA2009 news round-ups? Probably yes, to be fair. The final instalment answers the question "How old is the universe?" They write four lengthy paragraphs before concluding "13.7 billion years". Oops, I just spoiled the ending for you.
Miller-McCune turn research into solutions, or so they claim. They've turned their eye to the ever-recurring theme of light pollution. They say that "the end of 2009 does not find astronomers in a celebratory mood" because of all these pesky street lights. Maybe 2010 could be the International Year of Finally Actually Doing Something About Light Pollution Please. Just expand Dark Skies Awareness. Easy as!
Hello, Public Radio of Armenia! Your story was high up on the Google News listing, so congrats. Looks like Armenia has been summing up IYA2009. Ooh, 18 September has been declared as a Day of Astronomy. Nice! The Armenian President has set up an astronomy award, and-- OH NO! "Coordinator of the international astrology year Areg Mikayelyan told reporters that astrology has glorious traditions and brilliant perspectives in our country." Astrology year? Epic fail!
Now I'm going to have to find another story to finish on. Thanks a bunch, Public Radio of Armenia. Ummm... Well there's one from Tenerife News, but it's quite short. And there's one in foreign, so no use in asking me what it's actually about. Oh oh oh, this one will do. Thanks muchly, The Roanoke Times, for providing an article about celebrating the 400th anniversary of modern astronomy. It goes through Galileo's discoveries, gives some interesting facts, and even uses the phrase "calendar juggling". Marvellous.
Search IYA2009 Updates
---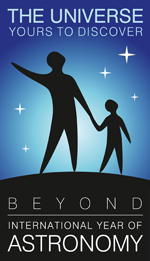 National Nodes: 148
Organisational Nodes: 40
Organisational Associates:33
National Websites: 111
Cornerstone Projects: 12
Special Task Groups: 11
Special Projects:16
Official Products:8
Media Partners:22