Cross the Universe in Paris metro stations!
9 December 2009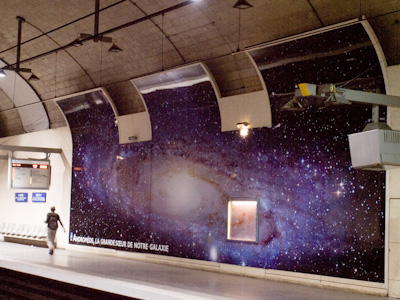 As part of the International Year of Astronomy, corridors of Paris Metro stations have been decked with about 500 meters of astronomical images, allowing tens and tens of millions of passengers to marvel at the Universe until the end of December 2009.
Along Montparnasse walkway linking the metro to the railway station, 2 giant frescos are on display. The first one, 135 meters long, comprises 58 pictures of planets, stars, nebulas and galaxies and illustrates progresses in instrumentation. The second one, a 160 meters long montage of 32 pictures, reconstructs the dimensions of the Universe, from light seconds to billions of light years. (Production: CNRS, INSU and CEA, in partnership with RATP; Sarah Landel, graphic artist)
At Luxembourg regional metro station, 6 huge images, of about 17 meters long and 6 meters high, take commuters from Mars to Saturn, from the Milky Way to the Andromeda galaxy, from a computer simulation of the Universe to the true colors of hundreds of thousands of galaxies. (Realization IAP, in partnership with RATP, 93/CCSTI Foundation and RATP)
In order to "see" the sky, astrophysicists have developed the largest digital cameras in the world, capable of producing hundreds of millions of pixels. These images, taken for scientific purposes, have "astronomical" dimensions that no conventional medium is capable of revealing in their full splendor. The walls of the Paris metro stations thus provide the public with the opportunity to contemplate such images in detail.
More information: http://www.insu.cnrs.fr/co/ama09/vous-avez-dit-univers
Search IYA2009 Updates
---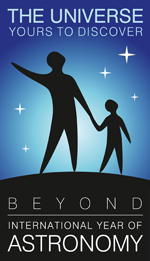 National Nodes: 148
Organisational Nodes: 40
Organisational Associates:33
National Websites: 111
Cornerstone Projects: 12
Special Task Groups: 11
Special Projects:16
Official Products:8
Media Partners:22