International Dark-Sky Association Director's Award goes to the IYA2009 Dark Skies Working Groups
1 December 2009
Connie Walker (chair) and the working group members of "Dark Skies Awareness" working groups internationally and for the U.S. received an International Dark-Sky Association "Executive Director's Award" at the recent IDA Annual General Meeting for their work on the U.S. and International IYA2009 Cornerstone Project "Dark Skies Awareness."
(See http://www.darkskiesawareness.org/contact.php for the lists of working group members.)
IYA2009 Dark Skies Awareness has made impacts not only with the project's programs (see http://www.darkskiesawareness.org) but also at major conferences worldwide on lighting (CIE) and astronomy (IAU) internationally, as well as the 9th European Symposium on Light Pollution, and recently the Starlight Reserves workshop. Look for Walker's writing on lighting and astronomy with co-authors Luginbuhl and Wainscoat in the December 2009 issue of Physics Today.
More on the IDA 21st Annual General Meeting & Conference: http://www.darksky.org/mc/page.do?sitePageId=55062
Search IYA2009 Updates
---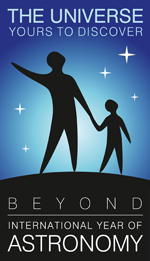 National Nodes: 148
Organisational Nodes: 40
Organisational Associates:33
National Websites: 111
Cornerstone Projects: 12
Special Task Groups: 11
Special Projects:16
Official Products:8
Media Partners:22