News round-up, 27 November
27 November 2009
Almost December. Then there will only be *checks calendar* four news round-ups left in the whole world. The final one will be on Christmas day. Joy.
But let's not get ahead of our ourselves. It's still only November, after all. A series of IYA2009 posters designed by Simon Page and as featured on our very own site have been making the rounds. A New York Times blog is very complimentary about them. But the site says, "2009 has officially been designated the International Year of Astronomy (who knew?)". Trust us, we blimmin' well knew. Creative Review is more respectful, so thanks to them. Although a comment on that page reads "Wow it's the international year of astronomy? No one told me." Sad face :(
Courier Journal has what must be photo of the week: Sinister scientist Crabolo and Galileo in Madcap Productions Puppet Theatre's "Look Out Galileo!" Yes that's right, Muppet-esque puppets celebrating IYA2009 with a stage show. "More than a dozen puppets are in the show, some of which are 7 feet tall, including the ancient Egyptian sun god Ra." We should *all* see that.
Aimed a slightly older audience is Philip Glass' new opera, Kepler. See if you can guess what it's about. New Scientist's CultureLab blog has the details, including a video.
What have you got for us, Springfield News-Sun? An exhibition of never-before-seen photos from Hubble and Spitzer, to be shown at Urbana University to celebrate IYA2009? Most excellent! Maybe they're linked to the Margaret C. Woodson Planetarium at Horizons Unlimited pictures, as highlighted by Salisbury Post.
Hello, Bridgeport News. They say that planetary astronomer Heidi Hammel will be giving a lecture at their Discovery Museum on 10 December. There will also be *more* image unveilings. This certainly seems to be the year for unveiling images. Maybe it's the International Year of Unveiling Images 2009.
Did you see any Leonid meteors last week? This writer didn't - it looked a bit chilly out. Imprint, the University of Waterloo's official student paper (do they have an unofficial one, too?) has some coverage. The science staff put a bit of effort in, and set up an observing session. Apparently "Also, 2009 is the International Year of Astronomy, which reached its peak after midnight on November 17." Do they mean the meteors peaked or IYA2009 did? Maybe both. TIP FOR THE STUDENT REPORTER: don't start your article with a dictionary definition. That's awfully... studenty.
Talking of awfully studenty, remember that the next news round-up will be out on Friday 4 December. Note that in your diary. Then circle it. Now use a highlighter. Sorted.
Search IYA2009 Updates
---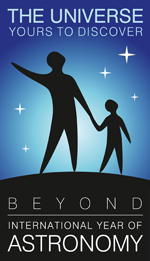 National Nodes: 148
Organisational Nodes: 40
Organisational Associates:33
National Websites: 111
Cornerstone Projects: 12
Special Task Groups: 11
Special Projects:16
Official Products:8
Media Partners:22