IYA2009 movie and book achieves MEDEA Award 2009 finalist status
27 November 2009
The MEDEA awards recognise, encourage, and reward excellence and creativity in media in education. Eyes on the Skies, the International Astronomical Union's DVD and book combination, has been marked as a finalist in the 2009 awards.
Eyes on the Skies consists of a 60-minute DVD and a 132-page, full-colour book, exploring the development of the telescope over the four centuries following Galileo's breakthrough, along with all the astronomical riches this instrument has revealed. The DVD gathers animations, simulations and stunning photographs, displaying the heavens revealed by astronomers while the film's host and narrator explain these unveiled cosmic answers, as well as pointing out areas of continuing mystery. It contains superb subtitles in many languages. Rounding out the Eyes on the Skies package is a sturdy, hardcover textbook that complements the film, creating a comprehensive educational experience.
Comments from the judges include "Science and astronomy are a difficult topic that the general public might not consider interesting at first, but Eyes on the Skies combines a well-produced book and a DVD that is in itself an inspiring, fascinating presentation that can capture the viewer."
See the MEDEA Awards 2009 page here: http://www.medea-awards.com/eyes-on-the-skies
Visit the Eyes on the Skies website: http://www.eyesontheskies.org/
Search IYA2009 Updates
---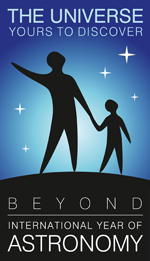 National Nodes: 148
Organisational Nodes: 40
Organisational Associates:33
National Websites: 111
Cornerstone Projects: 12
Special Task Groups: 11
Special Projects:16
Official Products:8
Media Partners:22