Galileo's telescope back from space
25 November 2009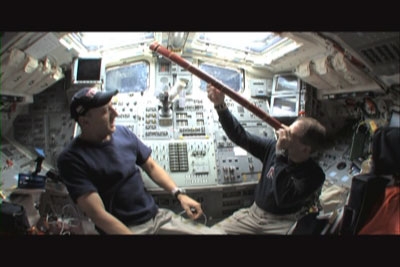 Galileo's telescope back from space: STS-125 mission astronauts on visit to Florence, December 18
On December 18 the replica of Galileo's telescope launched into the space last May aboard the shuttle Atlantis will come back to Florence, at the Istituto e Museo di Storia della Scienza (re-opening soon as Museo Galileo). The telescope will be officially returned by captain Scott Altman and mission specialist Michael Massimino during a public ceremony to be held in the Salone dei Cinquecento in Palazzo Vecchio, at 5:30pm.
Altman and Massimino will be accompanied by ESA astronaut, Paolo Nespoli and Simonetta Di Pippo, director of the Human Spaceflight Program of the European Space Agency (ESA). They will be welcomed by Florence Mayor, Matteo Renzi, the director of the Museum of the History of Science, Paolo Galluzzi, and the director of the Astrofisical Observatory in Arcetri, Francesco Palla. During the ceremony the STS-125 mission will be presented and striking films will be shown.
The Florence event is part of the two astronauts' European tour, that will stop in Paris and Rome as well. The tour is promoted by ESA to awaken European citizens to importance of human spaceflight in contemporary society.
The Atlantis crew of seven took off on May 11, 2009 from the Kennedy Space Center at Cape Canaveral to repair and refurbish the Hubble space telescope. Once into the space, the astronauts celebrated the four-hundredth anniversary of Galileo's celestial discoveries by pointing to the stars a replica of the revolutionary telescope, provided by the Museum of the History of Science, where the original instrument is kept.
A few hours before the launch, Massimino declared to be honoured to bring the historical telescope into the space. He hoped to have the opportunity to visit Florence and bring the telescope back personally. His wish is now to be fulfilled. The telescope back from space will deserve a place of honour in the Museo Galileo's permanent exhibition.
Image credit: NASA
More information: http://www.imss.fi.it/
Search IYA2009 Updates
---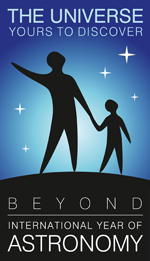 National Nodes: 148
Organisational Nodes: 40
Organisational Associates:33
National Websites: 111
Cornerstone Projects: 12
Special Task Groups: 11
Special Projects:16
Official Products:8
Media Partners:22