NASA Images: an invaluable resource for sharing incredible pictures
23 November 2009
NASA Images is a searchable database, useful for science communicators, educators, and general astronomy fans. Created under a Space Act Agreement between NASA and Internet Archive, a non-profit digital library, it offers unprecedented access to the largest collection of NASA media from a single, searchable site. NASA Images is constantly growing with the addition of current media from NASA, as well as newly digitised media from the archives of the NASA Centres.
All of the media produced by NASA is public domain meaning that anyone can use it any way so long as restrictions of publicity and privacy, outlined in the terms and conditions, are obeyed. All images from nasaimages.org should be credited with "NASA/courtesy of nasaimages.org."
IYA2009 supporters are encouraged to capitalise on this useful site, and use the awe-inspiring pictures it contains to help popularise astronomy and educate the public.
NASA Images: http://nasaimages.org/
Search IYA2009 Updates
---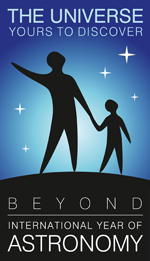 National Nodes: 148
Organisational Nodes: 40
Organisational Associates:33
National Websites: 111
Cornerstone Projects: 12
Special Task Groups: 11
Special Projects:16
Official Products:8
Media Partners:22