Galileo relics rediscovered: two fingers and a tooth
23 November 2009
Three exceptional Galilean relics, deemed lost for over a century, have been found again by chance by a collector.
Their story begins on 12 March 1737. The remains of Galileo were being moved from a secret storage room where they had first been laid to the monumental tomb in Santa Croce, opposite that of Michelangelo, where they still remain today. Some present decided to take "souvenirs", and removed parts of Galileo's corpse. One finger has been on display in the Florence Museum, and a bone in Padua. However, two fingers and a tooth went missing in 1905, leading many to believe they had been permanently lost.
These relics were rediscovered at a recent auction, where they were part of a mysterious lot consisting of a wooden case of unusual shape fabricated in the 19th century, surmounted by a wooden bust of Galileo. Inside it was an 18th century blown-glass vase containing two fingers and a tooth. A collector (who has asked to remain anonymous) realised that these items held additional interest. He purchased them and then followed the trail that led to their true nature being unveiled. The Soprintendente al Polo Museale Fiorentino, Cristina Acidini, and the Director of the Museo di Storia della Scienza, Paolo Galluzzi have confirmed the authenticity of these finds.
The relics will be displayed to the public for the first time in spring 2010 on the occasion of the reopening of the Istituto e Museo di Storia della Scienza di Firenze, which will then assume the name of Museo Galileo. More information about the Istituto e Museo di Storia della Scienza: http://www.imss.fi.it/
Search IYA2009 Updates
---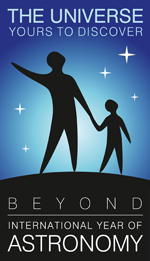 National Nodes: 148
Organisational Nodes: 40
Organisational Associates:33
National Websites: 111
Cornerstone Projects: 12
Special Task Groups: 11
Special Projects:16
Official Products:8
Media Partners:22