Galloway Forest and Zselic Landscape Protection Area awarded Dark
23 November 2009
Scotland's Galloway Forest and Hungary's Zselic Landscape Protection Area awarded Dark Sky status
Congratulations to Scotland's Galloway Forest Park and Hungary's Zselic Landscape Protection Area, the first International Dark Sky Parks in Europe! The International Dark-Sky Association is proud to recognise the lighting retrofits, public education, and ongoing protection efforts that enhance the natural wonder and reclaim the ongoing heritage of dark starry nights in these unique regions.
Galloway Forest Park is the first place in the UK landscape where dark skies are now safeguarded for people to experience for themselves after being awarded Dark Sky Park status by the International Dark-Sky Association. This marks a new high in the growing interest in the UK's dark skies.
The International Year of Astronomy 2009 gave extra impetus to the dark sky programme. Professor Ian Robson, who heads up International Year of Astronomy in the UK says "It is an incredible achievement for Galloway Forest park and the International Year of Astronomy that we have managed to secure this award. It means millions of people will be able to enjoy the unspoiled skies of Galloway Forest Park for years to come. This forms part of the Dark Skies Awareness Cornerstone project for IYA2009, and builds on the excellent work done by the Dark Sky Scotland project in encouraging people to get out and look up."
Dark Sky Scotland: http://www.darkskyscotland.org.uk/
Dark Sky programme in Hungary: http://www.darkskiesawareness.org/dspp-h.php
Dark Skies Awareness: http://www.darkskiesawareness.org/
Search IYA2009 Updates
---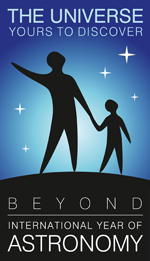 National Nodes: 148
Organisational Nodes: 40
Organisational Associates:33
National Websites: 111
Cornerstone Projects: 12
Special Task Groups: 11
Special Projects:16
Official Products:8
Media Partners:22