Western Connecticut IYA2009 enthusiasts unveil impressive scale Solar System
11 November 2009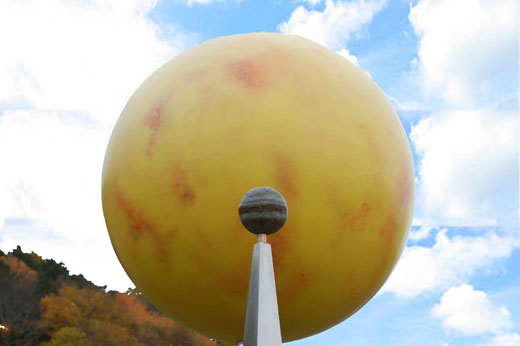 On 14 November a magnificent "true scale" model Solar System was being installed. It will be spread across over 6 miles of New Milford, Connecticut as part of local IYA2009 celebrations. The scale is set by a six foot diameter Sun that is on the Observatory grounds, and each object is on public property (most on school grounds), out to a distance of over 6 miles where the Oort Cloud and the "gateway to the Galaxy" will reside. Each object is cast in bronze, and sits atop a 5 foot stainless steel pyramid.
Beautiful and informative outdoor signs accompany each object, with the object emblem in brass on them so students can take rubbings in their "Passport to the Solar System" and get it stamped at the local library. This is an extraordinary blend of art and science that has had students, local artists and artisans involved in every step of its creation, and private funding for every part of it.
More is planned for the winter, including building a very large equatorial sundial with a replica of Galileo's telescope in bronze as part of the gnomon, and building "Galileo's Garden" - a 3000 square foot garden area with celestial art, a large granite sculpture, and more besides. All this will be done by a volunteer team of enthusiastic amateurs who run the McCarthy Observatory as a public facility.
Report by Bob Lambert.
McCarthy Observatory on the web: http://www.mccarthyobservatory.org/
Search IYA2009 Updates
---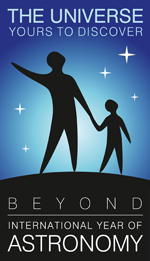 National Nodes: 148
Organisational Nodes: 40
Organisational Associates:33
National Websites: 111
Cornerstone Projects: 12
Special Task Groups: 11
Special Projects:16
Official Products:8
Media Partners:22