"Sounds of the Stars" enchant at German IYA2009 concert
10 November 2009
One of the cultural highlights of IYA2009 in Germany has been a concert by the Bochum Symphonic Orchestra at the largest auditorium of Bochum University on 6 November. Not only was the music astronomy-themed, the whole performance was also sumptuously illustrated by space vistas panning over a giant projection screen.
This performance was orchestrated by a team of largely PhD students from the University's Astronomy Department under the direction of Prof. Ralf-Jürgen Dettmar. While the first half of the concert was devoted to classical tunes, both well-known (some of Holst's planets - he would have been amazed by the spacecraft images of these bodies) and surprising, after the intermission it was all John Williams. "Sounds of the Stars - from Haydn to Star Wars" had been the title of the concert, conducted by Rasmus Baumann and enjoyed by an audience of some 850 which demanded and got an encore.
More information (in German): http://skyweek.wordpress.com/2009/11/06/astronomie-kultur-noch-mehr-begegnungen-im-iya
Report by Daniel Fischer.
Search IYA2009 Updates
---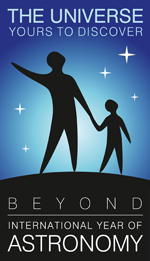 National Nodes: 148
Organisational Nodes: 40
Organisational Associates:33
National Websites: 111
Cornerstone Projects: 12
Special Task Groups: 11
Special Projects:16
Official Products:8
Media Partners:22