IYA2009 news from Congo
10 November 2009
The African nation of Congo has been working hard this year to popularise astronomy. Recently villages and cities celebrated the anniversary of men walking on the Moon. DVD videos and talks on the mysteries of the Universe captivated those in attendance.
Next year many African countries will celebrate their 50th birthday after independence. There will be large festivals in August 2010. In Congo, plans are being developed to take this opportunity to speak to a wide audience about science in general and astronomy in particular.
To capitalise on this situation, astronomers from Congo plan to request assistance from the Arab Emirates, to help with the development aspects. The plan is to educate the population about how astronomy, physics, biology, mathematics, and many other branches of thinking are all interlinked. Another aim is to discuss why globalisation is seen in Africa as neo-colonialism which impoverishes and drives cultural alienation, while other nations speak about lasting development and renewable energy sources. The challenge is to improve access despite lacking appropriate education, and to explain how the problems of climate change concern all inhabitants of the Earth.
If support can be obtained, science popularisers in Congo plan to continue their events well into 2010, with lecturers explaining why science education is important to children in school as well as university students in the cities of Brazzaville and Pointe-Noire.
Search IYA2009 Updates
---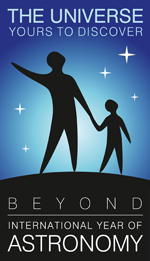 National Nodes: 148
Organisational Nodes: 40
Organisational Associates:33
National Websites: 111
Cornerstone Projects: 12
Special Task Groups: 11
Special Projects:16
Official Products:8
Media Partners:22