Irish Science Week opens with astronomy exhibition
9 November 2009
The exhibition "Over us All is the SElfsame Sky" (OASES) opened at 11:00 am on Monday 9 November in the Rotunda Gallery, St Patrick's Trian, Armagh with a performance of music, poetry and dance by pupils from Mount St. Catherine's Primary School, Armagh and the Armagh Rhymers. The launch coincides with the beginning of the science week in Ireland. The aim of Science Week is to promote the relevance of science, engineering and technology in our everyday lives and to demonstrate the importance of these disciplines to the future development of Irish society and to the economy.
This interdisciplinary exhibition bringing together science, education and art, contains paintings by astronomer Miruna Popescu of Armagh Observatory and artist Dara Vallely of the Armagh Rhymers, as well as work done in Astro-Art Fun workshops and the entries for the Second Cross-Border Schools Conference art competition. The launch is open to the public and everyone is welcome to attend. The exhibition remains open till the end of November.
Astro-Art Fun is a registered UNAWE (Universe Awareness for Young Children) and IYA2009 project.
OASES on the web: http://astronomy2009.ie/local/oases.html
UNAWE: http://www.unawe.org/site/
Search IYA2009 Updates
---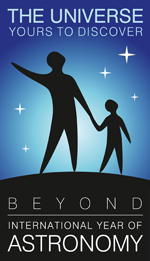 National Nodes: 148
Organisational Nodes: 40
Organisational Associates:33
National Websites: 111
Cornerstone Projects: 12
Special Task Groups: 11
Special Projects:16
Official Products:8
Media Partners:22