Newsletter to SPoCs: IYA2009: New website, Resources, Cornerstone Projects and Events
2 October 2008
Dear SpoCs and Chairs,
The IYA2009 newsletter for this week:
Organisational Matters
The IYA2009 is still growing: we have 126 National Nodes and we would like to take this opportunity to welcome the Republic of Belarus and DPR Korea, our latest National Nodes, to IYA2009.
IYA2009 Questionnaire to SPoCs
We have received questionnaires from most of you, and are now processing the data before a short report will be produced. Thank you very much to all of you who have sent the questionnaire.
IYA2009 New Website
After weeks of hard work the astronomy2009.org website has undergone an overhaul and now boasts improved design, functionality, navigation and resources! Receiving over 1500 visitors every day, it is gaining popularity and we are sure that this number will grow with time. More user-friendly than ever, the site provides an easy way to keep in touch with IYA2009 developments. We are always eager for your feedback, so please feel free to e-mail us at iya2009@eso.org with any suggestions. I would like to express my gratitude to the IYA2009 and ESA/Hubble team for the hard work! Please note that now you can't update your National page, so if you need to update your contact details, please send us an e-mail. It's our hope that all the National Nodes will have a National webpage before the end of the year.
IYA2009 Resources
On the IYA2009 website you can find various resources that will help you promote IYA2009 in your community: http://www.astronomy2009.org/resources/
IYA2009 Cornerstone Projects
100 Hours of Astronomy:
The 100 Hours of Astronomy global Cornerstone project has created a mailing list that will be used to keep everyone informed of plans and news. If you want to know the latest on what is happening with this major event in IYA2009, sign up for this free service on the 100 Hours of Astronomy website at www.100hoursofastronomy.org .
Universe Awareness:
International News:
* The world of UNAWE
* Visits to the website
* New tools website
* Presenting UNAWE
* Other resources
Country News:
* India - Netherlands
* Skies above China - UANWE Italy
* Cuentos de Estrellas - a Book by UNAWE en Espanol
* Giant astronomy games in Indonesia
* A Cartoon in Tunisia
* A Planetarium for Venezuela
* UNAWE Ireland is taking off
Download the PDF newsletter here: http://tinyurl.com/unawe-news-Sept2008
Cheers,
Carolina
IYA2009 EVENTS
· IYA2009 Opening Event, 15-16 January 2009 - http://www.astronomy2009.fr/opening

Report from European Planetary Science Congress Session: International Year of Astronomy 2009
With IYA2009 seeming to approach faster than ever, preparations have gone into over-drive. Europlanet's European Planetary Science Congress, held this year in the German city of Münster,Germany is well-known for its sessions on public engagement. The session "Outreach and Amateur Astronomy" was dedicated to IYA2009 talks, read the full report from Lee Pullen on the IYA2009 website: http://www.astronomy2009.org/resources/documents/detail/iya2009_epsc_report_lp/
If you have any questions, please don't hesitate to contact us.
Kind regards,
Pedro
IYA2009 Secretariat
Search IYA2009 Updates
---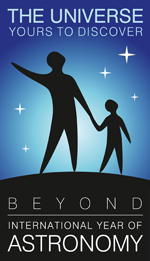 National Nodes: 148
Organisational Nodes: 40
Organisational Associates:33
National Websites: 111
Cornerstone Projects: 12
Special Task Groups: 11
Special Projects:16
Official Products:8
Media Partners:22