Twitter Moonwatch 26/27 October
26 October 2009
As part of Autumn Moonwatch (24 October - 01 November 2009), IYA2009 in the UK, in association with Newbury Astronomical Society, are running Twitter Moonwatch (on the evenings of 26 & 27 October 2009).
To take part in this Twitter-based just follow us on Twitter @astronomy2009uk and @NewburyAS. If you're not yet on Twitter, you can create an account for free here.
During Twitter Moonwatch we will be live-tweeting images of the Moon, planets and other astronomical objects, taken by Newbury Astronomical Society. At the same time we'll be online to answer any questions you might have about the images we're tweeting, and about astronomy in general.
This Twitter Moonwatch will be a special one, as we will be joined by the Faulkes Telescope Network of professional telescopes, who will be tweeting images taking with their 2m telescope situated in New South Wales, Australia.
To find out more, visit Newbury Astronomical Society's Twitter Moonwatch page
Search IYA2009 Updates
---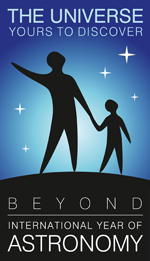 National Nodes: 148
Organisational Nodes: 40
Organisational Associates:33
National Websites: 111
Cornerstone Projects: 12
Special Task Groups: 11
Special Projects:16
Official Products:8
Media Partners:22