IYA2009 News Round-up
23 October 2009
This News Round-up Day is super-special, as it falls within Galilean Nights, the IYA2009 Cornerstone project fantastico. It's been popular in the news, as evidenced by the fact that it's number one in the Yahoo News listings. It beat fierce competition from "Motorola Droid", "Metallica", and "Jackie Chan".
redOrbit has a brief mention of this mega-star-party. The Professor Astronomy blog has a very effective introduction and tips on how to get involved. The Marquette Journal Online has a more in-depth effort, complete with some interviews with enthusiasts. And, of course, the Cosmic Diary is running a LiveBlog, as has become tradition.
Now a piece from TransWorldNews. Revelling in Galilean Nights is simple as can be, thanks to Astronomy.FM and Global Rent-A-Scope. The article reports that these organisations are offering free telescopic imaging time to internet users around the world. Their Twitter feed is worth keeping an eye on, if you want alerts to make the most of this deal.
iloubnan.info have a story from Lebanon about a small community of five astrophysicists deciding to use IYA2009 as a springboard to introducing astronomy to the local population. The motive is to tackle superstitions and familiarise people with the science of the stars. These enthusiasts are running events for Galilean Nights, so best of luck to them.
Media Newswire are spreading a press release about a talk to be given at The University of Texas at El Paso. Taking place this very News Round-up Day, the host is astronomer and Galileo-scholar Mary Kay Hemenway. 5pm in room 302 of the Education Building is when and where the action will be at.
SFGate, home of the San Francisco Chronicle, are providing good examples of Galilean Nights events happening in their area. The Manawatu Standard, Vineland Daily Journal, Cape Gateway, MagicValley.com and a whooooole lot more are doing the same. To see what's happening near you, click here à here.
That's enough for this News Round-up Day. Now go and do some Galilean Nights stuff.
Search IYA2009 Updates
---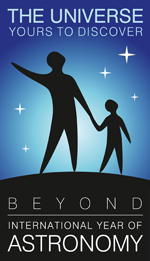 National Nodes: 148
Organisational Nodes: 40
Organisational Associates:33
National Websites: 111
Cornerstone Projects: 12
Special Task Groups: 11
Special Projects:16
Official Products:8
Media Partners:22