Tenth Colombian Astronomy Conference attracts VIP guests
22 October 2009
The X Encuentro Colombiano de Astronomía (Tenth Colombian Astronomy Conference) held yearly by RAC (Colombian Astronomy network), was held this year in the CAFAM Convention Center, in Bogotá.
The guest of honour was Mr. Gerolamo Schiavoni, Italian Ambassador to Colombia. Other attending VIPs included Mr. Ian McLennan, Vancouver (Canada) Planetary Director, and Antonio Bernal, who is the Director of Divulgation Activities of Fabra Observatory and Museum, in Barcelona, Spain.

A testament to the potential of She Is An Astronomer, nearly 40% of attendees were women. In several speeches male astronomers recognised the vital work being done by female astronomers.
Images from the event: http://www.flickr.com/photos/reddeastronomiadecolombia/
Search IYA2009 Updates
---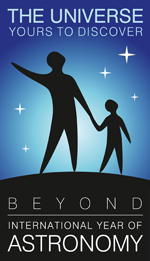 National Nodes: 148
Organisational Nodes: 40
Organisational Associates:33
National Websites: 111
Cornerstone Projects: 12
Special Task Groups: 11
Special Projects:16
Official Products:8
Media Partners:22