Galilean Nights Update
21 October 2009
The official press release from IYA2009/IAU, Galilean Nights: Get Ready for a Galileo Experience! went out today announcing
the start of Galilean Nights. With over 1000 events now registered the next few days will certainly see huge numbers of people observing the skies. You can see the press release here: http://www.astronomy2009.org/news/pressreleases/detail/iya0918/ Many events already have in place a "Plan B" in case of bad weather or other circumstances affecting activities, but up today on the Galilean Nights website are some suggestions of activities to consider in the event of not being able to carry out the observing that is planned: http://www.galileannights.org/runningevents_planb.html (Thanks to Nelma Silva and Ricardo Reis from CAUP (www.astro.up.pt) for the first draft)
Once your events are over, we really want to hear from you to find out how things went and to hear all of your stories. So please be sure to share the experience with us, by sending in a short report and photographs from all of your activities, this will also help us to evaluate the Galilean Nights project as a whole. To recognise the dedication and hard-work that goes into organising these events, there will also be a number of awards given out, covering the following categories: Outstanding Galilean Nights Event; Largest number of registered events held by a single group; Largest single registered event; Community outreach and Most innovative event. The recipients of the awards will be chosen based on the event reports. More details of what should be included in the reports will be announced on the website soon, but you can start preparing now!
IYA2009 Staff Writer, Lee Pullen, has started his Live Blog, building up to his upcoming trip to Munich where he will be reporting from the different Galilean Nights events taking place there. Alongside the Live Blog is the Galilean Nights group blog, with posts written by event organisers, sharing their plans for Galilean Nights and stories from their IYA2009 activities. You can access both blogs through the Galilean Nights webiste (www.galileannights.org) or you can follow both blogs directly by going to the Cosmic Diary (www.cosmicdiary.org) and choosing one of the two Galilean Nights links from the right-hand menu. Both blogs have RSS feeds that you can sign up to.
For the SPoCs and Local Contacts, if you can make one last effort to get events from your countries registered on the Galilean Nights website: http://www.galileannights.org/register_event.html. If you have events registered elsewhere you can also send along a data export so that they can be added directly to the database quickly and easily.
Good luck to all of you with your events over the next few days, I hope everything goes very well and be sure to add photos from your activities on the Galilean Nights Flick group: www.flickr.com/groups/galileannights
Search IYA2009 Updates
---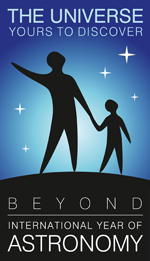 National Nodes: 148
Organisational Nodes: 40
Organisational Associates:33
National Websites: 111
Cornerstone Projects: 12
Special Task Groups: 11
Special Projects:16
Official Products:8
Media Partners:22