17,000 people visit German IYA2009-themed science festival
6 October 2009
Every year since 2001 the Deutsche Physikalische Gesellschaft (German Physical Society) has organised a major science festival in a different venue and with a different lead topic. In 2009 the choice was easy, and so the late September "Highlights of Physics" in Cologne had the theme "Address: Milky Way", in honour of IYA2009. It is one of only a handful of federally funded IYA2009 activities in Germany, where most projects rest on the shoulders of volunteers.
Over five days approximately 17,000 visitors to the historical Gürzenich complex - ranging from kindergarteners to students to adults - had a look at an entertaining and highly informative mix of exhibits, talks featuring experiments, and spectacular stage shows. While local universities in particular had a chance to present their current astronomical work, naturally only few of their exhibits had the strong hands-on character that are typical for the Highlights der Physik, and so other experiments from mechanics and electrodynamics were added.
Spanning the full range from hard science data to "physics magic" extravaganzas, the Highlights of Physics are "edutainment" at its best - but they also involve tremendous work (and financial resources) by the organisers and participating scientists alike, and thus the concept is hard to copy.
Homepage: http://physik-highlights.de/
Press Release on 2009: http://www.dpg-physik.de/presse/pressemit/2009/dpg-pm-2009-26.html
Report by Daniel Fischer.
Search IYA2009 Updates
---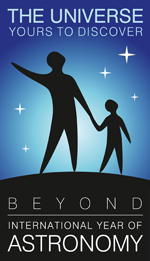 National Nodes: 148
Organisational Nodes: 40
Organisational Associates:33
National Websites: 111
Cornerstone Projects: 12
Special Task Groups: 11
Special Projects:16
Official Products:8
Media Partners:22