Astronomy study abroad - Ghana
21 September 2009
Winter Session: December 28, 2009 - January 8, 2010
In celebration of the International Year of Astronomy, the University of Arizona's Office of Study Abroad & Student Exchange is offering a unique faculty-led winter session program in Ghana. This program is designed for students interested in astronomy and anthropology, particularly in an African context.
This intensive program aims to teach students to do cutting-edge astronomy research from anywhere in the world that has an internet connection. Students will learn how to use publicly available archival data from ground and space-based telescopes. In addition, students learn how African have traditionally viewed the heavens and the role the sky has played in their societies through hands-on cultural astronomy research in Cape Coast and the surrounding communities.
Through this course, students can earn between 3 and 9 credits in Astronomy or Anthropology. Courses will be held for 12 days in Cape Coast to be followed by two weeks of independent study upon return. Students may choose to take one, two of three of the following courses:
ASTR/ANTH 345 Cultural Astronomy: Africa
ASTR 300 The Universe at Your Fingertips: Research in the Survey Age
ASTR 204 Great Debates in Astronomy
The program will be based on the University of Cape Coast campus in the coastal Ghanaian city of Cape Coast. Located on the Gulf of Guinea, approximately 75 miles from the capital of Accra, Cape Coast is one of Ghana's most historic cities and is home to Ghana's most vibrant fishing culture. Much of the beach is consumed with crowds of fishermen in traditional canoes, intertwined by a sea of fishing nets.
Applications available through The University of Arizona Office of Study Abroad & Student Exchange +1-(520) 626-9211, www.studyabroad.arizona.edu
FOR MORE INFORMATION, CONTACT Harmony DeFazio, defazioh@email.arizona.edu This e-mail address is being protected from spambots. You need JavaScript enabled to view it
NOTE : Applicants from the Africa should contact Prof. Buah-Bassuah in the Department of Physics at the University of Cape Coast for details on application and possibilities for funding. His email address is: buahbass@hotmail.com
Search IYA2009 Updates
---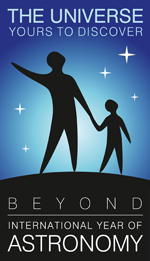 National Nodes: 148
Organisational Nodes: 40
Organisational Associates:33
National Websites: 111
Cornerstone Projects: 12
Special Task Groups: 11
Special Projects:16
Official Products:8
Media Partners:22