Author Bob Crelin promotes IYA2009 on US TV
14 September 2009
Eyewitness News 3 on WFSB has made available online an interview with IYA2009 supporter and author Bob Crelin. During this, Bob talks about IYA2009 and his educational book, "Faces of the Moon".
Since its launch on 1 July 2009, the book has helped many children, and indeed adults, to understand why the Moon has different phases as seen from Earth. Written in rhyming verse and with illustrations by Leslie Evans, it is an enjoyable interactive lesson about our nearest celestial neighbour.
Bob is also a member of the IYA2009 Dark Skies Working Group, and his children's book/DVD, "There Once Was a Sky Full of Stars" is used as an outreach resource for public education on dark skies.
View the video here: http://www.wfsb.com/video/20264638/index.html
Visit Bob's website here: http://www.bobcrelin.com/
Search IYA2009 Updates
---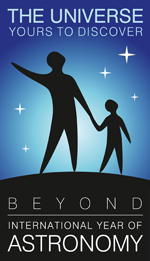 National Nodes: 148
Organisational Nodes: 40
Organisational Associates:33
National Websites: 111
Cornerstone Projects: 12
Special Task Groups: 11
Special Projects:16
Official Products:8
Media Partners:22