IYA2009 News Round-up
28 August 2009
The weekly news round-up is relentless, tireless, unforgiving, and coming right for you every Friday. So let's crack on with it.
Quite a few countries have commissioned official IYA2009 coins and now Romania is in on the action, says Wall Street. A special silver medal celebrating this astronomical year is now in circulation. They feature the logo and inscription "DESCOPERA SINGUR UNIVERSUL" (The Universe, Yours to Discover).
Do you like your science with a side of scandal? The Prague Post certainly does, and to prove it they've written an excellent article with "tales of murder, sex and excess." And astronomy. The aim is to publicise a conference and museum dedicated to the life and times of Kepler, who published the landmark Astronomia nova 400 years ago.
Astronomy.com's blog has had a go at picking the top space-themed news stories from the year so far. It makes for interesting reading and shows just how much cutting-edge science has taken place during IYA2009. Says the article, "And we can't forget that 2009 was the International Year of Astronomy." No, we can't.
Schaumberg Review is generously spreading the word about public night sky viewings and talks about all things astronomical, happening at Harper College every other Saturday during November. You'll need to scroll down quite a way to find the text, but the level of detail makes up for that. Also at Harper College is a new "Welding for Women" course, so why not combine that with astronomy for a fun-filled day (and night)?
IYA2009 has reached Derby in the UK with force. Up to 50,000 people are expected to join in the annual Feste celebrations. The live music and street parades will feature an astronomy theme, with pieces from Strauss, Mozart, Hayman, Sousa, Williams, Dvorak and Mancini, and from 2001: A Space Odyssey, The Magic Flute, ET, and even Star Wars. Oh yes, the article is on ThisIsDerbyshire.co.uk.
The Calgary Herald have outdone themselves this week, with a story about how amateur astronomers have been building their own telescopes and racing to find faint fuzzy objects that are scattered around the night sky.
Search IYA2009 Updates
---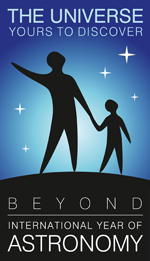 National Nodes: 148
Organisational Nodes: 40
Organisational Associates:33
National Websites: 111
Cornerstone Projects: 12
Special Task Groups: 11
Special Projects:16
Official Products:8
Media Partners:22