Website launch for Galilean Nights!
28 August 2009
Preparations are well underway for the new IYA2009 Cornerstone project, Galilean Nights. Taking place between 22-24 October 2009, this initiative will see thousands of people around the world engaging in practical astronomy activities, bringing the wonders of the Universe to the public. Register your event on the website now: www.galileannights.org.
The Galilean Nights team have been working hard to ensure that the project is ready on time. The website will act as a central hub, and is launched today. The site contains contain useful information, ranging from tips on how to run an event to the basics of stargazing. More information and resources will be added over the coming weeks. Perhaps the most important aspect of the website is the ability for event organisers to register their activities, ensuring that as many people as possible can search for details, find events local to them, and participate.
Astronomy societies, amateur astronomers, and indeed all interested parties are encouraged to begin planning events now, so that they can be registered as early as possible. Activities will focus on public star parties, allowing individuals to observe the same celestial objects as Galileo did 400 years ago. These include gas giant Jupiter, mysterious Venus, the cratered Moon, and many others.
All IYA2009 supporters are asked to help spread the word about the Galilean Nights Cornerstone project, and ensure that it is a great success!
Search IYA2009 Updates
---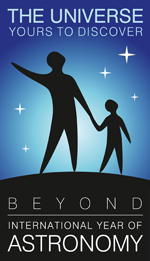 National Nodes: 148
Organisational Nodes: 40
Organisational Associates:33
National Websites: 111
Cornerstone Projects: 12
Special Task Groups: 11
Special Projects:16
Official Products:8
Media Partners:22