MEDEA Awards 2009: Open Call for Participation
8 July 2009
Numbers of Entries Set to Exceed 2008!
With the numbers of entries already received by the MEDEA Secretariat higher than at the same time last year, the MEDEA Awards look to be growing in popularity in keeping with a growing interest generally in the use of media and video in education. Now that the competition is fully operational in French and German as well as in English, it is hardly surprising that the numbers of entries from French and German speaking regions looks set to far exceed the numbers received in 2008. The inclusion of two new awards, the MEDEA Award for Creativity and Innovation and the European Collaboration Award is also having a positive impact on the number of entries.
Promotion of MEDEA Awards through Growing European Network
The promotion of this year's MEDEA Awards is now in full swing and is really being helped by a growing network of dedicated contact points in different European countries. These include the Blackrock Education Centre in Ireland, Terakki Foundation Schools in Turkey, VIDEOSCOP in France, France, University of Bergen (SEVU) in Norway, Innovate4Future in Romania and Information Design at the FachHochschule JOANNEUM in Austria. This network is expanding and within a couple of weeks, the MEDEA Team expects to have a contact point in all European countries. The promotion campaign also includes posters and leaflets about the MEDEA Awards in French, German and English which are being distributed throughout Europe.
Details for Participants
Everyone who produces video, audio and/or multimedia based learning and teaching materials is invited to submit an entry to the MEDEA Awards. The main criteria for entry is that the multimedia project, production or service submitted must make use of images and/or sound to support teaching and learning. Entries by teachers and learners are particularly welcome. It is also important to highlight the fact that it costs nothing to enter!
The call for entries closes on Wednesday 30th September 2009 by which time all the required materials have to be sent to the MEDEA Secretariat.
Contact MEDEA
To find out more about the awards or to subscribe to our newsletter, visit the web site: http://www.medea-awards.com
For information regarding participation, becoming a judge, partnering, sponsoring or collaborating with the MEDEA Organising Committee, please contact Nikki Cortoos of the MEDEA Secretariat:
Nikki Cortoos
MEDEA Secretariat
E-mail: secretariat@medea-awards.com
Address: Nikki Cortoos, MEDEA Secretariat, ATiT, Leuvensesteenweg 132, B-3370 Roosbeek, Belgium Tel: +32 16 284 040, Fax: +32 16 223 743
Search IYA2009 Updates
---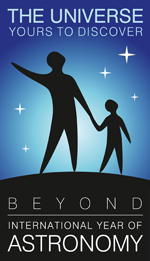 National Nodes: 148
Organisational Nodes: 40
Organisational Associates:33
National Websites: 111
Cornerstone Projects: 12
Special Task Groups: 11
Special Projects:16
Official Products:8
Media Partners:22