Japanese astronomy superheroes rally in support of IYA2009
6 July 2009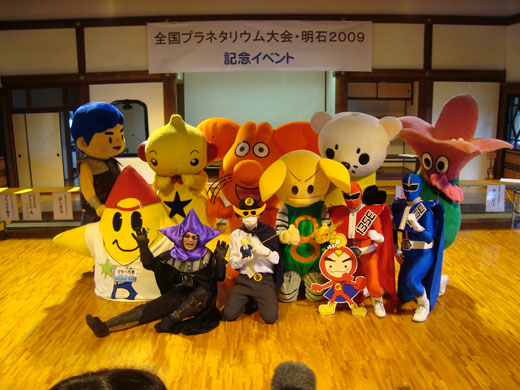 More than ten cartoon characters from planetaria and science museums in Japan gathered for the All-Japan Astronomy Character Symposium which was held on 21 June in Akashi. Present were many high-profile IYA2009 supporters, from superheroes to giant animals.
Prof. Seiichi Sakamoto, Director for Space Science Outreach at the Institute of Space and Astronautical Science (ISAS), Japan Aerospace Exploration Agency (JAXA), attended the event. Says Prof. Sakamoto, "I learned a lot about the specifications of the stuffed costumes, such as wareability, air ventilation, mobility, and maintainability."
VIPs at the symposium included Shigosenger Red and Shigosenger Blue. Their mission is to prevent not-so-bright scientist Dr. Blackstar from conquering the world. JAXA's lead hero is Kiku Hachizo who flies the flag for Engineering Test Satellite Kiku-8. Kiku has the appearance of a bee with large ears, representing deployable antennae for communication. Says Prof. Sakamoto, "practically speaking, its visibility is available only through its mouth."
The IYA2009 superheroes are a diverse group. Explains Prof. Sakamoto, "some can move very quickly, while others have very limited mobility particularly at steps and narrow corridors. Some have very poor visibility and / or limited field of view. Some can speak but most of them do not speak and need managers or assistants to communicate."
Perhaps the most sophisticated superhero was "Pyonta" from the Hiroshima Children's Museum. He features a fan for inflation of the body and air ventilation. Prof. Sakamoto adds, "I envied staffs of Hiroshima Children's Museum because of the comfort they enjoy even during the event."
During the symposium all attending heroes issue a joint statement declaring that they will do their best to popularise astronomy during IYA2009... and beyond.
Search IYA2009 Updates
---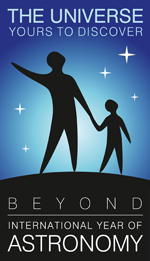 National Nodes: 148
Organisational Nodes: 40
Organisational Associates:33
National Websites: 111
Cornerstone Projects: 12
Special Task Groups: 11
Special Projects:16
Official Products:8
Media Partners:22