German IYA2009 activities reach mid-summer climax
26 June 2009
Between the last and the coming weekend several major events mark the half-time point of IYA2009 in Germany. On Sunday some 200 enthusiasts converged on a waste rock pile in the Ruhr Area on which a huge "horizon observatory" had been built last year. With clouds parting for a brilliant sunset at its northern-most point, this "modern Stonehenge" was the place to be to celebrate the summer solstice of IYA2009. See http://home.arcor.de/skyweek/halde2.html for some impressions.
Since Thursday and until Saturday the SternenZelt ("Tent of the Stars") awaits visitors in the heart of Bonn on the Muensterplatz - and 4000 came already on the first day. Professional and amateur astronomy organisations present their work and interact with the public, including a semi-secret radar research installation which rarely makes itself known. Everything from basic astronomy to sophisticated spacecraft and ESO's E-ELT project is here, plus experts to explain it. See http://home.arcor.de/skyweek/sternenzelt.html for impressions.
Finally on Saturday 27 June, right next to the SternenZelt, the central public IYA2009 party in Germany will take place under the name SternenFest. From 14:00 to 22:00 a varied programme of music, comedy and IYA2009 talks - including a German astronaut - will bring the fun of the International Year of Astronomy to a wide audience. A worldwide one, in fact, as starting at 18:00 the show will be webcast! The programme can be found at http://www3.uni-bonn.de/die-universitaet/aktionen-und-veranstaltungen/sternenzelt/sternenfest
while http://www.sternstunde-online.de/index.php?option=com_content&view=article&id=99 informs about the webcast details.
Search IYA2009 Updates
---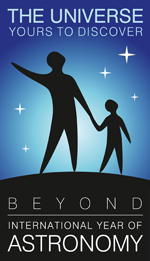 National Nodes: 148
Organisational Nodes: 40
Organisational Associates:33
National Websites: 111
Cornerstone Projects: 12
Special Task Groups: 11
Special Projects:16
Official Products:8
Media Partners:22