PBS' 400 Years of the Telescope Garners Four Telly Awards
19 June 2009
The PBS documentary 400 Years of the Telescope, produced by Interstellar Studios to support the International Year of Astronomy 2009, has been awarded four Telly Awards. A Silver Award was received for an excellent achievement in cinematography, and three Bronze Awards representing outstanding achievement, for use of animation, writing and the documentary over all.

Beautifully photographed in 4K digital cinematography, 400 Years of the Telescope, is a visually stunning chronicle of the history of the telescope from the time of Galileo, its profound impact upon the science of astronomy, and how both shape the way we view ourselves in the midst of an infinite universe.

The film features interviews with leading astrophysicists and cosmologists from the world's renowned universities and observatories. They explain concepts ranging from Galileo's act of revealing the cosmos with a simple telescope, to the latest discoveries in space, including startling new ideas about life on other planets and dark energy - a mysterious vacuum energy that is accelerating the expansion of the universe.

Founded in 1978, the Telly Awards is the premier award honoring outstanding film and television productions. The Telly Awards annually showcases the best work of the most respected advertising agencies, production companies, television stations, cable operators, interactive agencies, and corporate video departments in the world. The Telly Awards receives over 13,000 entries annually from all 50 states and countries around the world.

The judges rate each entry on a 100-point scale. Entries with a scores of 90 or higher are awarded a Silver Telly statuette, Telly's highest honor. Entries with an average score of 70 to 89 are awarded a Bronze Telly statuette for outstanding achievement. The Silver Council, the Telly Awards judging and oversight body, is comprised of top advertising and video production professionals that are past winners of a Silver Telly, and have been chosen for membership based on theirp rofessional accomplishments.

400 Years of the Telescope was funded through a National Science Foundation grant and underwritten by the Ball Aerospace Corporation. Southern Oregon Public Television (SOPTV) is the PBS presenting station.

The program DVD, soundtrack and companion book are available through PBS Home Video - www.ShopPBS.org

For more information, contact Kris Koenig, Interstellar Studios, 11 Ilahee Lane, Chico, CA 95973 (530) 343 5635 kris@InterstellarStudios.com
Search IYA2009 Updates
---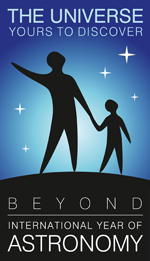 National Nodes: 148
Organisational Nodes: 40
Organisational Associates:33
National Websites: 111
Cornerstone Projects: 12
Special Task Groups: 11
Special Projects:16
Official Products:8
Media Partners:22