IYA2009 News Round-up
19 June 2009
Let's open with an excellent feature courtesy of Canada.com. It's all about experiencing "Galileo moments", and certainly conveys the enthusiasm of astronomers. Here's the best paragraph: "This is the year to start looking up once more. There is a big party going on to celebrate the 400th anniversary of the telescope's coming of age, and everyone around the planet is invited." The party is IYA2009, in case you didn't get that. Looks like the same article has been reproduced in The Montreal Gazette, so you have options for where to read it.
Scientific American has an IYA2009-centred article which begins by looking at the significance of 1609. It then discusses modern astronomy, in particular extrasolar planets. Nice one, SciAm.
The upcoming solar eclipse on 22 July will definitely spark the media's interest, and the beginnings of this can already be seen as Taiwan News has a story about an astronomer enthusing people in anticipation of the imminent spectacle. Talking of stories that will be building to a crescendo, word of the International Astronomical Union's General Assembly, taking place in August, is filtering out if SatNews.com is anything to go by.
To Hong Kong next, where The Standard has been covering news of a stargazing theme area called AstroPark. Scheduled to open later this year, IYA2009 Hong Kong League convenor Leung Kam-cheung has been praising the government for its efforts in promoting star-watching. According to the article, AstroPark will be in an area protected from light pollution, and will feature three zones: an observation area for amateur astronomers, a naked-eye observation area, and an education zone which will house replicas of ancient Chinese astronomical instruments.
What's been happening in the UK, eh? Science Centric says that a new state-of-the-art mobile planetarium is being "launched" (so to speak) next week. Boasting a high-definition digital projector, it will be taken to schools in the local area as part of the University of Kent's IYA2009 celebrations.
We've all seen scale models of the Solar System before, but few are as impressive as the Planet Trek Dane County. The Wisconsin State Journal has the story of how astronomer Jim Lattis has created a 37km-long cycle route to represent the Solar System, from the Sun to dwarf planet Pluto. The scale is 200 million to one and there are signs at significant points along the route giving facts about the planets. Impressively, it's designed so that walking at a moderate pace is the equivalent of moving at the speed of light. So, it should take participants eight minutes to walk from the Sun to the Earth. Jim Lattis, you are a clever man.
Tune in next week for more IYA2009 news!
Search IYA2009 Updates
---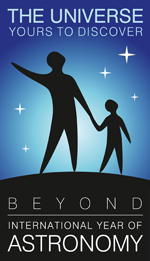 National Nodes: 148
Organisational Nodes: 40
Organisational Associates:33
National Websites: 111
Cornerstone Projects: 12
Special Task Groups: 11
Special Projects:16
Official Products:8
Media Partners:22