IYA2009 encourages resource sharing among common-language countries
18 June 2009
An aim of IYA2009 is to bring counties of the world together, celebrating the scientific and cultural benefits of astronomy. Language can be a great force to assist with this, uniting nations that share a common means of communication.
Around the world people are producing resources to help with the communication of astronomy. A huge amount of work has already been undertaken, and continues to do so, in the name of IYA2009. However, often these are only used in the countries where they are produced. There is great potential in sharing resources to achieve the common aims of IYA2009.
A great many nations share languages, making cross-pollination of ideas and the distribution of resources that much easier. IYA2009 encourages all Single Points of Contact and IYA2009 representatives to communicate with each other, and collaborate on projects and the sharing of resources. There is also potential in organising translations of particularly useful information. Working together, the aims of IYA2009 will certainly be within reach.
Search IYA2009 Updates
---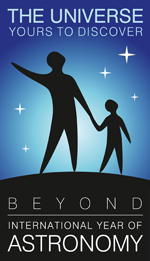 National Nodes: 148
Organisational Nodes: 40
Organisational Associates:33
National Websites: 111
Cornerstone Projects: 12
Special Task Groups: 11
Special Projects:16
Official Products:8
Media Partners:22