Ceremony celebrates the 1919 eclipse at Príncipe
3 June 2009
In May 1919, the famous astronomer, Sir Arthur Eddington, the Royal Astronomical Society and the Geographical Society of Lisbon launched an historic expedition to observe a total solar eclipse. Historians now recognise this as a major achievement of 20th Century science. To commemorate the 90th anniversary, IYA2009 has given Special Project status to the Celebrating the 1919 Eclipse at Príncipe initiative and endorsed a ceremony that took place on the island.
The 1919 eclipse was visible from equatorial regions on both sides of the Atlantic; Eddington sent one team to Sobral in Brazil, and went himself went to the African island of Príncipe. Stars in the Hyades cluster were behind the Sun during the eclipse, and appeared to shift from their true positions by 1.75 arcseconds. This gravitational deflection of light by the Sun's mass provided the first experimental verification of Albert Einstein's theory of general relativity. Neither Einstein nor Eddington initially foresaw practical applications for the effect known as gravitational lensing, although 90 years later it has emerged as the most promising probe of our Universe.
To mark the 90th anniversary, on 29 May 2009 a team visited Roça Sundy, the former colonial plantation where Eddington took measurements. A series of public lectures were given in Santo António, the capital of Príncipe. A new set of postage stamps for São Tomé and Príncipe were released, commemorating Sir Arthur Eddington and the 1919 eclipse. On the big day, a convoy with almost 100 delegates (particularly impressive given the island has fewer than 5000 inhabitants) was greeted with dancers and banners. A commemorative plaque was then unveiled which explains the experiment and its significance in Portuguese and English.
The event proved to be a real success, and IYA2009 is proud to be associated with honouring the 90th anniversary of this historic experiment. A personal account of the recent expedition and ceremony, including photographs, is available on the project's blog page.
Search IYA2009 Updates
---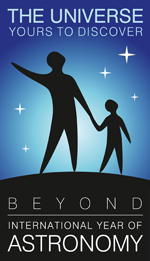 National Nodes: 148
Organisational Nodes: 40
Organisational Associates:33
National Websites: 111
Cornerstone Projects: 12
Special Task Groups: 11
Special Projects:16
Official Products:8
Media Partners:22