Weekend of Astronomy Education Workshops Sept. 12 & 13 Near San Francisco -- Scholarships Available
27 May 2009
Two Days of Hands-on Astronomy and Earth-science Education Workshops for 4th -12th Grade Teachers near San Francisco USA
Sept. 12 - 13, 2009
A weekend of hands-on workshops and exciting science talks will be offered as part of the 120th anniversary meeting of the non-profit Astronomical Society of the Pacific at the Westin Hotel near the San Francisco Airport in Millbrae, California.
The program will include space science and earth science workshops for teachers in grades 4 through 12, as well as sessions for educators who work in informal settings (such as museums, nature centers, amateur astronomy clubs, and community organizations.)
No background in astronomy will be assumed or required. Experienced educators from the Society's staff, from NASA and NSF-sponsored projects, and from educational institutions around the country will be presenting. Only a limited number of spaces will be available, and, thanks to conference supporters, registration for each day or the workshop will be only $39.
Sunday afternoon will feature a special nontechnical lecture series about the search for life among the stars, with some of the leading scientists from the SETI Institute describing the scientific experiments now under way to identify life beyond Earth.
Thanks to the support of the Spitzer Space Telescope Science Center, a limited number of travel-support scholarships (of up to $300 per person) will be made available for educators.
Continuing education credit for attending the workshop and writing a paper may be available at an additional fee through San Francisco State University. (This is still pending.)
For more information, please go to the meeting web site at: http://www.astrosociety.org/events/meeting.html
New information and program details will be posted as available.
NOTE: These workshops are part of the celebration of the International Year of Astronomy 2009 and will feature a special session devoted to "Galileo Teacher Training" -- a key project to train educators to convey some of the themes of this very special year celebrating the 400th anniversary of Galileo turning the telescope to the heavens.
Search IYA2009 Updates
---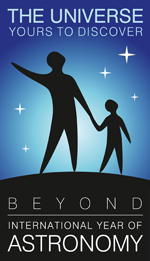 National Nodes: 148
Organisational Nodes: 40
Organisational Associates:33
National Websites: 111
Cornerstone Projects: 12
Special Task Groups: 11
Special Projects:16
Official Products:8
Media Partners:22