TWAN Update
26 May 2009
- The World at Night in collaboration with Dark Skies Awareness project, organize the International Year of Astronomy 2009 Earth and Sky Photo Contest on the importance of dark skies. It is open to anyone of any age, anywhere in the world. More
- See the complete photo report of TWAN exhibition/presentations in UNESCO, International Year of Astronomy 2009 Opening Ceremony and IAU260 symposium on astronomy and culture.
- There are new stunning photos and time-lapse videos on TWAN website, featuring starry nights of the planet's landmarks from Asia and Middle East, to Europe and Americas:
Americas
USA
Mauna Kea Laser Star (Hawaii) by Wally Pacholka
Being Watched (Alaska) by LeRoy Zimemrman
The Time Will Come (Alaska) by LeRoy Zimemrman
Drifting Apart (Alaska) by LeRoy Zimemrman
Ursa Major and Submillimeter Telescope (Arizona) by P.K. Chen
Twilight Arch (Kansas) by Doug Zubenel
A World-leading Observatory (Hawaii) by Wally Pacholka
100 Years of Observation (California) by P.K. Chen
Chile
A Night in the Atacama Andes (time-lapse video) by Stephane Guisard
Europe
Hungary
Moon Halo over Lake Balaton by Tamas Ladanyi
Sweden
Moon Watch by P-M Heden
France
All-sky View of a Lonely Tree by Laurent Laveder
Tronoen Chapel Under Moonlight by Laurent Laveder
Greece
Parthenon Sunrise by Anthony Ayiomamitis
Asia and Middle East
Korea
Orion, Sirius, and Pagodas by Kwon O Chul
Iran
Imperial Milky Way by Oshin D. Zakarian
Andromeda and Wild Flowers by Babak Tafreshi
Meet the Great Comet by Babak Tafreshi
Orion Road by Oshin D. Zakarian
Turkey
Sky Panorama Over Lake Salda by Tunc Tezel
Mediterranean All-sky View by Tunc Tezel
Armenia
Garni Temple under Moonlight by Babak Tafreshi
Guest Gallery is a a well-received section on TWAN website to feature selected outstanding Earth and sky photos by non-TWAN creative photographers from around the globe. If you have such remarkable photos to share with TWAN Guest Gallery, please contact us.There are new featured photos on the Guest Gallery:
- One Night (Hawaii-USA) by Stefano De Rosa
- Pleiades Rising Above Ama Dablam (Nepal) by Manuel Jung
- Messier Night in Iran by Amir H. Abolfath by Peter Wienerroither
- Radio Starlight (Germany) by Holger Ziegler
- Crescent Moon Above Ruined Church (Hungary) by Abraham Tamas
- Trace in Abyaneh (Iran) by Taha Ghouchkanlu
- Temple of Poseidon at Moonrise (Greece) by Chris Kotsiopoulos
- Racing Rock at Racetrack Playa (California-USA) by Paul Gardner
- Camping at Joshua Tree National Park (California-USA) by Paul Gardner
- Rising Galaxy Over Las Campanas (Chile) by Alex Turorica
- CTIO Milky Way Setting (Chile) by Alex Turorica
- TWAN is featuring six special galleries:
TWAN is a global program of Astronomers Without Borders (www.astrowb.org) and a Special Project of International Year of Astronomy 2009, an initiative by IAU and UNESCO. The World at Night is to produce and present a collection of stunning photographs of the world's most beautiful and historic sites against the nighttime backdrop of stars, planets and celestial events. The eternally peaceful sky looks the same above all symbols of different nations and regions, attesting to the truly unified nature of Earth as a planet rather than an amalgam of human-designated territories.
Building bridges through the sky
The World at Night
Search IYA2009 Updates
---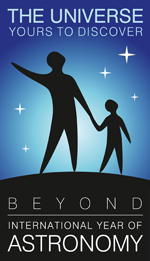 National Nodes: 148
Organisational Nodes: 40
Organisational Associates:33
National Websites: 111
Cornerstone Projects: 12
Special Task Groups: 11
Special Projects:16
Official Products:8
Media Partners:22