News round-up, 22 May 2009
22 May 2009
IYA2009 seeks to promote amateur astronomers, so we enjoy coming across stories like this one from KTAR.com. Keen stargazer David Healy has a private observatory which he's used to discover more than 500 asteroids. "This was a hobby that got out of control," says Helay. Too right mate, but IYA2009 applauds you! Especially as he's now teamed up fellow enthusiast Tom Kaye, in an attempt to become the first amateurs to discover an extra-solar planet. Aim high, guys!
Are you a modern type? Do you use Twitter? You do? Great! That means you can get involved in a competition celebrating the launch of the full-dome digital planetarium show "We are Astronomers", which, incidentally, has a lovely trailer. The competition is to win four tickets for the show, and all you have do to be in with a chance of winning is write a Twitter astronomy haiku. Then send it to @astronomy2009.uk. Simple, really. Talking of Twitter, IYA2009's official page, http://twitter.com/astronomy2009, is certainly worth a look-see.
Agencia AngolaPress has been reporting on words of support from the Angolan minister of Science and Technology, Candida Teixeira. She has called on private and public institutions to cooperate with IYA2009 activities, which should help to "re-launch this science in the country." IYA2009 approves!
"Astronomy booming in Bombala" is the wonderful headline of a Bombala Times article. Residents of this Australian district have embraced astronomy, and have even formed the Bombala Astronomy Guild to cater for the interest. The article says they meet every two weeks at the local airstrip, but it's not made clear whether they have to watch out for low-flying aircraft.
If armchair stargazing is more your thing, then an Australian PC Authority article about viewing the cosmos using your computer should be required reading. Software such as Stellarium, Google Sky, Starry Night, and Microsoft's WorldWide Telescope are all discussed, and then it's onto methods of controlling telescopes from the comfort (and warmth) of your living room.
The Southgate Amateur Radio Club has a nifty little story about the UK's Normal Lockyer Observatory having been given special permission to use the callsign GB400IYA throughout the year. Come in GB400IYA, do you read me? Over!
The Times of India reports that students have been shying away from areas of study such as astronomy. They say that particularly in India, courses like engineering and medicine are more popular. The article gives some sound advice to people considering their academic options, and helpfully mentions IYA2009 at the end, as a sweetener. So go on folks, we want more stargazers.
Now, remember to follow the IYA2009 Twitter Feed for even more frequent updates. How's that for a world-class service?
Lee Pullen
IYA2009 Staff Writer
Search IYA2009 Updates
---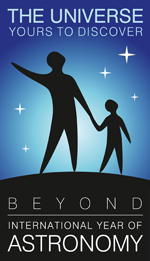 National Nodes: 148
Organisational Nodes: 40
Organisational Associates:33
National Websites: 111
Cornerstone Projects: 12
Special Task Groups: 11
Special Projects:16
Official Products:8
Media Partners:22