Newsletter to SPoCs - 09 September 2008
9 September 2008
Dear SpoCs and Chairs,

The next IYA2009 meeting will take place in Vienna, Austria, 10 and 11 September at JENAM2008. During this meeting we will have two sessions dedicated to the IYA2009 programme:

* Thursday, 10 September, 9:00 - 10:20 - plenary talk, with talks from Catherine Cesarsky (IAU President and IAU IYA2009 EC WG Chair), Lars Lindberg Christensen (IAU IYA2009 EC WG Secretary), Pedro Russo (IYA2009 Coordinator) and Thomas Posch (Austrian IYA2009 SPoc).

* Friday, 11 September, 9:30-12:35 - Symposium 2 - Education and Communicating Astronomy in Europe - Preparation for IYA2009

More information: https://www.cosmic-matter.org/indico/conferenceDisplay.py?confId=6

An informal IYA2009 dinner will be held on Thursday, 10 April. SpoCs and their representatives are invited to participate. We will give more information regarding the dinner on site.

If you have any questions, please don't hesitate to contact me. I will be available on my mobile number: +4917661100211

Kind regards,
Pedro Russo
Search IYA2009 Updates
---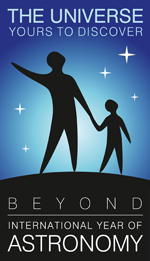 National Nodes: 148
Organisational Nodes: 40
Organisational Associates:33
National Websites: 111
Cornerstone Projects: 12
Special Task Groups: 11
Special Projects:16
Official Products:8
Media Partners:22