New Web Site for a PBS Television Special Offers Educational Resources on Telescopes and Astronomy
14 May 2009
A new web site, accompanying the IYA2009 Special Project and PBS television special "400 Years of the Telescope," offers background information, classroom and family activities, and practical tips for everyone who is teaching about the development of telescopes, the history of astronomy, or the exploration of the universe. You are invited to discover its features at: http://www.pbs.org/soptv/400years/
Information on the site includes:
An Introduction to Telescopes
Getting Your Family Involved with Astronomy
The Expanding Universe Explained
The Astronomy of Many Cultures
How Astronomers Search for Intelligent Life in Space
Science Fiction With Good Astronomy
Telescopes of the World (a table and database)
Frequently Asked Questions about Galileo
Video Clips of Interviews with Noted Astronomers
An Activity for Observing the Cycles of Jupiter's Moons
A Glossary of Astronomical Terms
Teaching Ideas for 14 Key Topics Related to the Show
A "Toolkit" for Demonstrating Ideas in Optics
A Guide to the Changing Role of Women in Astronomy
and many other resources and tools.
Information on the site was put together by the educational staff of the Astronomical Society of the Pacific (An IYA2009 Organisational Node and a 120-year old educational organization which has developed outreach materials on astronomy for a wide range or projects) and Interstellar Studios, the production company that made the TV special.
Both the TV show and the web site are among the key outreach projects of the International Year of Astronomy in 2009, celebrating the 400th anniversary of Galileo turning the telescope toward the heavens.
Search IYA2009 Updates
---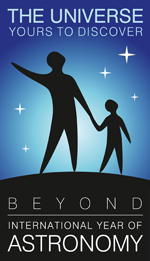 National Nodes: 148
Organisational Nodes: 40
Organisational Associates:33
National Websites: 111
Cornerstone Projects: 12
Special Task Groups: 11
Special Projects:16
Official Products:8
Media Partners:22