A Journey to the Stars in Taiwan
8 April 2009
"A Journey to the Stars" was an outdoor multi-media stage performance, held in the Great
Square of Chiang Kai-Shek Memorial in Taipei in the evening of March 21st around Spring
Equinox, for the celebration of IYA2009 in Taiwan.

This big event consisted of two parts, the first part was the orchestral suite "The Planets" by
Gustav Holst, performed by the National Taiwan University Orchestra, with the stage
projection of the video suite "The Planets" created by Dr. José Francisco Salgado of
Adler Planetarium. After the first part, there was a 10 minute on stage interview of Dr. Salgado
by the host Prof. Wei-Hsin Sun, about how this wonderful video suite was
created. The second part was a new creation of a multi-media drama "Four Hundred Years
of Heaven Gazing - The Life of Galileo", written by Prof. Wei-Hsin Sun and performed by
M.O.V.E. Theatre Group. The format of presentation in the play is very rich, including
drama, acapella, chorus, dancing, and fire special effects. The play covers the three
most important stages in the life of Galileo: the discovery of laws of kinematics,
including the famous Pisa Leaning Tower experiment, the usage of the newly-invented
telescope for astronomical observations and the subsequent discoveries, and the trial of
inquisition.

This outdoor event went very well with a participation of approximately 8,000 people
enjoying the performance in a beautiful weather.
More information:
Search IYA2009 Updates
---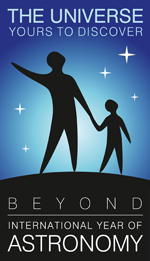 National Nodes: 148
Organisational Nodes: 40
Organisational Associates:33
National Websites: 111
Cornerstone Projects: 12
Special Task Groups: 11
Special Projects:16
Official Products:8
Media Partners:22