Easter Eggs Hunt with Star Walk: ipod touch and gift cards giving away for all IYA2009 enthusiasts
8 April 2009
For all those who want to prolong the experience of the great 100 Hours of Astronomy event and add more hours of stargazing under their belt Star Walk is just what you need. As official product of IYA2009 Star Walk is now offering Easter surprises to all IYA2009 followers.
We have hidden 9 Easter Eggs in the skies of Star Walk and you have to find them. For the first 3 people who get in contact with us with all correct info we offer 3 ipod touch, if you can't find all but some our gift will be itunes store gift cards.
But first of all what is an Easter Eggs? In the 'geek' vocabulary is a virtual object that has been placed in the landscape of the application.
Read tips on where to find them and how to take part in the hunt here
Search IYA2009 Updates
---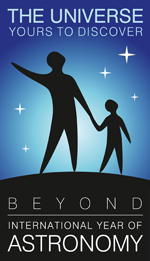 National Nodes: 148
Organisational Nodes: 40
Organisational Associates:33
National Websites: 111
Cornerstone Projects: 12
Special Task Groups: 11
Special Projects:16
Official Products:8
Media Partners:22