2nd second Astronomy & Astrophysics School "Scientific Writing for Young Astronomers"
10 March 2009
The direct purpose of organising an "Astronomy and Astrophysics School" is to teach beginning PhD Students how to express their scientific results through adequate and efficient science writing. In other words: how to write scientific papers for different forums (journals, proceedings, thesis manuscripts, etc.). To this end, a three-day training course is organised.
All lecturers have long professional experience in publishing, editorial matters, scientific writing and library and database management.
More information: http://www.swya.org/
Search IYA2009 Updates
---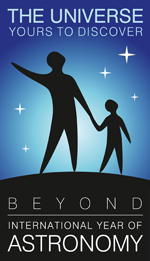 National Nodes: 148
Organisational Nodes: 40
Organisational Associates:33
National Websites: 111
Cornerstone Projects: 12
Special Task Groups: 11
Special Projects:16
Official Products:8
Media Partners:22