News round-up, 27 February 2009
27 February 2009
It's time for the weekly launch of the Round-up Rocket, blasting its way to Planet News!
A project begun two years ago in preparation for IYA2009 has finally come to fruition, UPI.com and Ansa.it bring to our attention. An Italian team of astronomers, scientists and historians have been building a telescope using Galileo's original design. I wonder if it has a computerised GOTO mount.
IYA2009 has begun in Scotland! Edinburgh Guide has outlined some important notes, including the fact that the Scottish Government is providing over £100 000 to help fund a range of public astronomy events during the year. Meanwhile, Prensa Latina has given a little bit of headline space to Cuban IYA2009 celebrations, which will include contests, workshops, and campaigns.
The mural-sized astronomical images being exhibited in the US are making their way to MiraCosta College, reports Village News. The grand unveiling is accompanied by a free public talk, sweetening the deal. The wonderfully-named town South Bend has also been gifted with mural images from NASA, according to local news source WSBT.com.
The Shreveport Times says that Lousiana's Science Centre is celebrating IYA2009 with a series of programs and activities. These include looks at the Messenger space probe, and studying the electromagnetic spectrum. The article is titled "Sci-Port to celebrate astronomy Friday" which is certainly cheerier than the site's latest headline, "Shreveport police investigate overnight stabbing".
A key aim of IYA2009 is boosting astronomy education, so it's excellent seeing positive moves in that direction reported by the media. Take Clarion University for example, which has been running a programme called "Integrating Astronomy into the Curriculum". The project has been inspired by IYA2009's goal of ensuring that every person has an astronomy related educational experience in 2009.
Over to India now, and Express Buzz has run an interesting story about renowned science writer and State Institute of Encyclopaedic Publications Director K Pappootty. He has been saying that "the knowledge of astronomy is a vital necessity for the development of new generation". He has also spoken out against the misuse of astronomy by astrologers, so he deserves an extra point.
Many astronomy clubs are running events to mark IYA2009. This is the theme of an article by The Punekar, which includes some quotes from people organising activities. Remember that if you're an amateur astronomer, you can do something similar!
Remember that these updates are almost exclusively English-language based. Check local sources and your favourite news aggregator sites as well (e.g.: http://news.google.com), to complement these overviews.
Lee Pullen
IYA2009 Staff Writer
Search IYA2009 Updates
---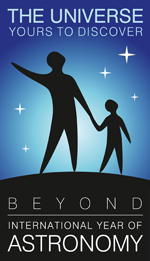 National Nodes: 148
Organisational Nodes: 40
Organisational Associates:33
National Websites: 111
Cornerstone Projects: 12
Special Task Groups: 11
Special Projects:16
Official Products:8
Media Partners:22