Happy Astronomy Year, speech by Dr. Zadeh (Iranian Deputy President in Sci&Tech Affairs)
8 January 2009
Happy Astronomy Year
Message of Dr.Sadegh Vaez Zadeh,
Iranian Deputy President in scientific and technology affairs
Science of astronomy has been practiced to answer human countless questions about our universe. Advancement in this science depends on modern instruments; therefore astronomy became propulsion for new technologies and improved other related sciences. Astronomy also developed some of the greatest scientific instruments such as huge optical telescopes, radio telescopes, solar observatories, satellites and remote sensing systems.
The year 2009 named as International Year of Astronomy to admire role of astronomers and remind people about effects of this science on society and culture and its role on education and general collaboration, specially in young generation. 400 years after first telescopic observation of sky by Galileo now more than 130 countries participated in IYA2009.
Most affirmation in this year will be on astronomy as a global scientific activity and in the path of global peace. Scientists and fans of astronomy made most great astronomical network and working together as a family and try to answer some of the most fundamental questions of mankind.
Our beloved county, Iran, participated in this event beside other countries. Thinking about creation of the sky objects has been advised by holy Quran and this science (astronomy) has high value in Persian culture and history. History of science witnessed valuable activities of Persian and Muslim astronomers during the golden age of astronomy in Islamic civilization.
750 years after founding the Maragha observatory by Khaje nasir - al din Toosi, astronomy became one of the most active and vast science in the world.
Although after Toosi and Sufi Razi and their observatories, Iran was far from frontline of astronomy but after Islamic revelation and after 8 centuries hard works of Iranian scientists, now Iran is going to back to the glory in astronomy.
The Iran National Observatory (INO) is under construction in one of the best observing sites of Iran. Like other developing country our future plan is not just about observing but also developing other modern science and technologies which during the recent 20 years our society witnessed increasing in these fields.
After completing the INO project - which is passing its starting phases - Iran will be the host of one of the most powerful telescopes of the region and will develop other related science and technologies. After centuries, astronomy in Iran is going to be one of the most active scientific fields by the year of 2026 - the year that Iran national development script predicated high development in the country.
I would like to congratulate this valuable year to all astronomers and researchers.
Original message published at Jam-e-Jam Daily Newspaper on January 1st.
Search IYA2009 Updates
---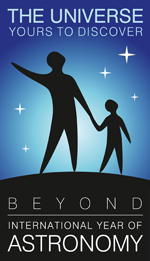 National Nodes: 148
Organisational Nodes: 40
Organisational Associates:33
National Websites: 111
Cornerstone Projects: 12
Special Task Groups: 11
Special Projects:16
Official Products:8
Media Partners:22