The new web site of the 100 Hours of Astronomy Cornerstone Project is now online.
3 January 2009
The new web site of the 100 Hours of Astronomy Cornerstone Project is now online. This new site has new content and features. More importantly, the new site provides the capability for many new features as IYA2009 begins and we all prepare for the 100 Hours of Astronomy in April.

There is new information on each of the global events, including the opening event, the live science center webcast, the live 24-hour research observatory webcast and the 24-hour global star party. Much more will be added as planning continues.

A new Resources section has the latest information pack, logos of various types for your use, five new posters that can downloaded and printed small as handouts or large as posters with spaces for information on your event and seven how-to guides for planning and conducting public star parties. The information pack will be updated as planning continues, new posters will be created and many more how-to guides will be added to encourage everyone with a telescope to hold a public observing event during the 24-hour global star party. More types of resources will be added as well.

While we are very pleased to have the new web site available, this is just the beginning. Within the next week some essential features will become active. Registration of events and several methods to search the events database and display the results. A new forum will become active allowing you to ask questions and provide feedback, discuss similar types of events with other participants around the world and find collaborators for your projects. An FAQ will also be available within the week.

More information, features and resources will continue to be added for some time. If you have questions, comments or suggestions about what the site should include please feel free to write to the project coordinator Jennie McCormick at farmcoveobs@xtra.co.nz. Feel free to write to me as well at the address below concerning any other issues.

Each significant addition to the site will be announced on this mailing list as it becomes available. Jennie McCormick's newsletter will also continue at greater intervals.

IYA2009 is now one day old in most of the world. The celebration is just beginning, and excitement is building toward the 100 Hours of Astronomy. To see how those of us on the 100HA team feel visit our new web site to see the great (and real; no Photoshop!) image captured by Paul Moss of New Zealand. It's going to be a grand worldwide party!
More information: www.100hoursofastronomy.org
Search IYA2009 Updates
---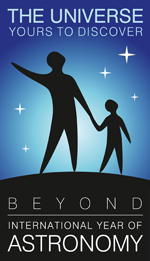 National Nodes: 148
Organisational Nodes: 40
Organisational Associates:33
National Websites: 111
Cornerstone Projects: 12
Special Task Groups: 11
Special Projects:16
Official Products:8
Media Partners:22