Galileoscopes in Cuba
6 December 2010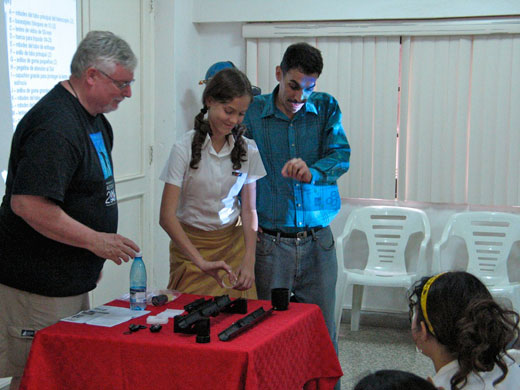 Report by David M.F. Chapman ( Royal Astronomical Society of Canada, Halifax Centre)
In March 2010, I joined a group of Canadians in Havana, helping Cuban youth learn English. As luggage, I took 12 Galileoscopes donated by the Department of Astronomy and Physics at Saint Mary's University in Halifax, Nova Scotia. http://www.smu.ca/academic/science/ap/ With the assistance of Dr. Oscar Alavarez, I met Alejandro Jiminez of the National Museum of Natural History in Havana, and together we conducted 3 workshops on Galileoscopes for 125 interested persons of all ages. The full account of my adventure appears in the December 2010 issue of the Journal of the RASC. http://www.rasc.ca/journal/ and I have a personal photo essay at http://gallery.mac.com/chapmandave#100450.
Alejandro had a busy summer in 2010 as he reports: "My summer has been extremely successful… I gave two short courses of Astronomy, I participated with my students in about 5 Science Festivals, the Erathosthenes Experiment (with other Latin American schools), and 3 public observations, where Galileoscopes were used every time. Just last week, to announce some unrelated news on Astronomy on a first page of a National Newspaper, a picture with two of my students (Explorers) were used to iconize Astronomy, looking through a Galileoscope!"
My plan is to return to Havana in March/April 2011 to extend this collaboration. Plans are not final, but topics that have been discussed include: simple astrophotography, observing the Moon, and a program for Cuban youth to earn the RASC "Explore the Universe" certificate.
Search IYA2009 Updates
---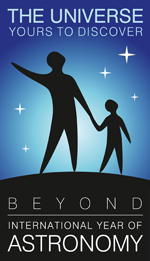 National Nodes: 148
Organisational Nodes: 40
Organisational Associates:33
National Websites: 111
Cornerstone Projects: 12
Special Task Groups: 11
Special Projects:16
Official Products:8
Media Partners:22