Measurable effects of IYA2009 in Sweden
6 December 2010
A recent study of the recognition of science among the Swedish public has demonstrated a pronounced change in the appreciation of astronomy.
Sweden has a strong tradition of measuring and documenting statistics on its population in various respects, a tradition that actually was started by the astronomer Peter Wargentin in the mid 18th century. The organization Vetenskap och Allmänhet[1] (Science and the Public) with individuals as well as science-related agencies and organisations as members, conducts since a decade an annual survey attempting to measure the attitudes of the population to science. Last year 3000 Swedes of different ages above 14 were thus interviewed by telephone. The results show as usual a relatively high appreciation of science in general.[2]
Among the questions, one asked about whether a number of disciplines listed should be categorized as a "science". Here, one should note that the Swedish word used was "Vetenskap" which refers not only to natural sciences but also humanistic fields like history, music science or law – basically all disciplines in which research is performed at universities. In this ranking Medicine is usually quite high (>90% of all Swedes seem to regard that a science) while Philosophy and Theology rank lowest (about or less than 30%).
The good news is now that Astronomy increased from 2008 to 2009 from 53% to 67%, the greatest change of all since 2008. All other changes are below 10% and most much less than that. It seems natural indeed to ascribe this to the International Year of Astronomy, which was recognised rather widely in Sweden. If the study is representative, and there are good reasons to believe it is, it seems to suggest that about 1.5 million more Swedes have become aware of that astronomy is a science as a result of the IYA2009 efforts.
(Report by Bengt Gustafsson, IYA2009 SPoC for Sweden)
---
[2] VA-Barometern 2010/11, in Swedish
Search IYA2009 Updates
---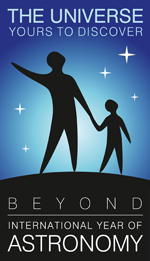 National Nodes: 148
Organisational Nodes: 40
Organisational Associates:33
National Websites: 111
Cornerstone Projects: 12
Special Task Groups: 11
Special Projects:16
Official Products:8
Media Partners:22