BBC School Report the overall winner in the MEDEA Awards 2010
1 December 2010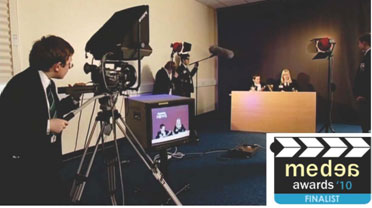 BBC's highly engaging project School Report which gives 11-14 year-old students in the UK the chance to make their own news reports for a real audience was a popular overall winner of this year's MEDEA Awards. Using lesson plans and materials from the BBC News School Report website, and with support from BBC staff, teachers help students develop their journalistic skills to become School Reporters. Announcing the winner of this year's MEDEA Awards, Kathy Lindekens (VRT), talked about the high quality of the entries and the value of networking amongst all those involved. Ros Smith, representing BBC School Report at the awards ceremony held last night during the Media & Learning Conference in the Flemish Ministry of Education and Training headquarters in Brussels, expressed her delight about this award and the value the School Report experience can bring to individual children including those who may be slow to put themselves forward in normal classroom activities but who suddenly start to find their voice in School Report.
BBC School Report was also the winner of the Professional Production Award sponsored by AVID. The winner of the User-Generated Content Award sponsored by SMART was Et si c'était toi?, submitted by the Lycée Technique du Centre in Luxembourg and represented by Laurence Streitz. This 4-minute film was produced by 17 to 18-year old students of the secondary school Lycée Technique du Centre in Luxembourg and deals with bullying and domestic violence. The Adobe-sponsored European Collaboration Award went to Evolution of Life, a website created by LMU Munich in Germany and CNDP (Centre National de Documentation Pédagogique) in France and represented by Yannick Mahé, offering original teaching materials about the evolution of life. A special prize was given to Pocket Anatomy, submitted by eMedia Interactive in Ireland and represented by Mark Campbell. Pocket Anatomy is a fully searchable interactive atlas of the human anatomy designed to run on a mobile device.
The other finalists for this year's awards were Bla Bla Bla e-democracy e minori by Civil Life Lab (Italy) represented by Adriana Sartore, Level 7 by Careersbox (UK) represented by James Lawrence and Nick Newman, Monkey Labs by Die Keure/Larian Studios (Belgium) represented by Swen Vincke and Vicky Vermeulen, Theorem of Fire by Nafta Films (Estonia) represented by Esko Rips and The Classroom by Cornerhouse (UK) represented by Rachel Hayward.
In addition to the finalists, the MEDEA Awards organisers also announced the names of the 6 entries that have been Highly Commended in the 2010 competition. These are: Exploring the Nature: Five Stories, a documentary film series created by ELM MEDIA in Latvia, Bubble and Pebble created by Terakki Foundation School in Turkey, Green Schools 'War on Waste' by St Francis School, Priorswood in Ireland, Project Water H2Ooooh! by Gruppo Alcuni in Italy, Water in Ethiopia by the Open University, UK and Mindsetter by the Danish School of Education in Denmark.
Presentations by all the finalists were given during the Media & Learning Conference which attracted over 230 participants from 31 countries and which provided an important context for this year's MEDEA Awards. The conference agenda also included workshops led by previous winners and finalists of the MEDEA Awards.
More information: http://www.medea-awards.com/
Search IYA2009 Updates
---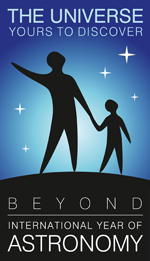 National Nodes: 148
Organisational Nodes: 40
Organisational Associates:33
National Websites: 111
Cornerstone Projects: 12
Special Task Groups: 11
Special Projects:16
Official Products:8
Media Partners:22