Cosmic Treasures: Online Observing Event with Virtual Telescope
24 November 2010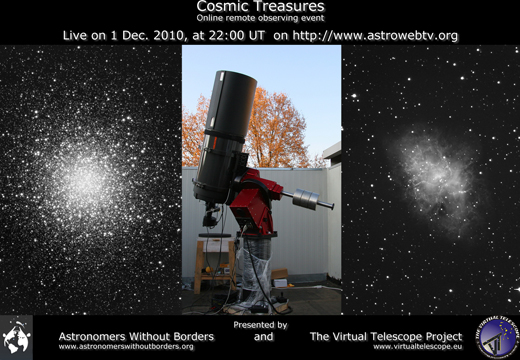 Date: December 1
Time: 22:00 UT
http://www.astronomerswithoutborders.org/projects/online-observing/495.html

Cosmic Treasures is an online event giving you a unique opportunity of experiencing Universe through the Virtual Telescope at Bellatrix Observatory in Italy. You will be able to see beautiful cosmic treasures of the Universe such as galaxies, nebulae and clusters of stars in real time, with live commentary by astrophysicist Dr. Gianluca Masi.
This is a free event and open to anyone. You can also chat with others online during the event, interact with the Dr. Masi in real time, or just watch and listen while exploring the Universe. Experience One People, One Sky as we share the sky together.
Search IYA2009 Updates
---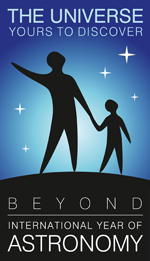 National Nodes: 148
Organisational Nodes: 40
Organisational Associates:33
National Websites: 111
Cornerstone Projects: 12
Special Task Groups: 11
Special Projects:16
Official Products:8
Media Partners:22