Guidelines for the selection of IYA2009 Official Products
The category of IYA2009 Official Products is intended to give commercial products which satisfy the vision of IYA2009 greater international recognition, an opportunity to link with celebrations worldwide and to use the IYA2009 global network to reach out. Official Products are selected on the prioritised criteria below:
It should align with the IYA2009 vision;
It should be available globally;
It should be financially independent;
It should be easily adaptable to other languages;
It should be scientific accurate;
It should demonstrate sufficient potential for successful implementation;
It should be available during 2009;
It should be available at significant bulk discount (min. 50%) to the IYA2009 stakeholders (national nodes, organisational nodes and organisational associates);
It should have the IYA2009 logo clearly displayed;
A financial contribution to the IYA2009 Secretariat is expected (min. 5000/EUR per product).
Individuals or organisations possessing products that satisfy these criteria are welcome to submit a motivation to the IYA2009 Secretariat (iya2009@eso.org). The motivation (two pages maximum) should clearly indicate how each criteria point is satisfied.
Note: The IYA2009 Secretariat encourage widespread and free use of the IYA2009 logo by individuals and groups who organize or support IYA2009 activities. An IYA2009 "activity" is here understood to be an event, exhibit, performance, or promotional product, print or electronic publication, or other creation intended to advance the aims of the IYA2009 as described elsewhere on this website. Please check the IYA2009 Branding and Identity Guidelines.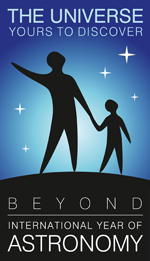 National Nodes: 148
Organisational Nodes: 40
Organisational Associates:33
National Websites: 111
Cornerstone Projects: 12
Special Task Groups: 11
Special Projects:16
Official Products:8
Media Partners:22