13th Global Hands-on Universe Meeting
1 July 2010
GHOU 2010 is organized by Technische University Munich (TUM) and European Southern Observatory (ESO) in Munich, Germany.
August 1-2-3, 2010: GTTP/Training conference
This will be in Garching at TUM, where we will take advantage of the wonderful Garching Science infrastructure.
A very significant experience for most of our workshop attendees: ESA, ESO, Big Reactor, BMW factory, etc.
August 4, 2010: Conference Tours! To be announced.
August 5-6-7, 2010: GHOU conference at TUM in Garching.
Local Organizing Committee
Andreas Kratzer, TUM
Verena Kratzer, University of California, Berkeley
Christine Wittmann, TUM
Nastaran Matthes, TUM Informatics Dominik Bösl, TUM
Christian Clemens, MPE + TUM
Wolfgang Dorsch, Gymnasium Ettal
Lars Lindberg Christensen, ESO
Main Topics
Workshop (August 1st -3rd)
Galileo Teacher Training Program
Software tools in computer science and astronomy GHOU Resources
Dark Matter, Exo-Planets!
The Universe Quest Game!
Hands-on Activities
Remote Telescopes
High School Projects
Visit to Garching Institutes
GHOU Main Conference (August 5th -7th)
Hands-on Universe Around the Globe
Galileo Teacher Training Programme
Outreach Strategies
School Projects and Discoveries, and Many New Opportunities!
International School Projects
Astronomy and Culture/Philosophy
New Methods/Projects in Education
Astronomical Software
Search IYA2009 Updates
---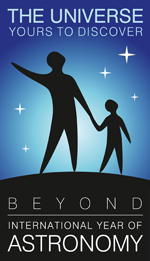 National Nodes: 148
Organisational Nodes: 40
Organisational Associates:33
National Websites: 111
Cornerstone Projects: 12
Special Task Groups: 11
Special Projects:16
Official Products:8
Media Partners:22