Website Launched For Astronomers to Report Observations Of Unexplained Aerospace Phenomena
15 October 2009
A website has been launched that will give amateur and professional astronomers a formal mechanism for reporting any unexplained phenomena they observe when studying the night sky. Within the framework of International Year of Astronomy 2009 (IYA2009), the Unidentified Aerospace Phenomena (UAP) Observations Reporting Scheme aims to provide a global focus for sightings by astronomers and contribute towards a better understanding of transient phenomena occurring in the atmosphere.
The reporting scheme has been set up by amateur astronomer, Philippe Ailleris, who proposes to use the unique opportunity of IYA2009 to collect additional and more rigorous information on UAPs, more popularly referred to as UFOs.
"These phenomena are mainly seen in the night sky, a domain that astronomers have long considered their own, and it is important to collect testimonies from members of the population that are trained observers. We aim to approach this controversial field of UAP sightings from a professional, rational point of view and without any preconceived ideas. Certainly whenever there are unexplained observations, there is the possibility that scientists could learn something new by further study," said Ailleris.
Ailleris has developed a questionnaire that requests precise details of the sightings, including the location, time, elevation, velocity, apparent size and distance of the UAP, as well as a description of the terrain and weather conditions at the observation point and any sketches, photos, audio or video footage. A short and long version of the questionnaire in English and French can be downloaded from a dedicated website, www.uapreporting.org.
The website will also give information on common nocturnal and daytime misidentifications, such as sightings of satellites, weather balloons, rockets and natural phenomena such as meteors, planets, ball lightning, sprites and mirages. There will also be links to relevant websites where people can further check charts and details.
"As well as allowing people to double check their sighting against explainable causes, we hope that the website will be a useful tool for the astronomy community to redirect enquiries from the general public and to help engage with the public in discussions about the science behind what is seen in the sky," said Ailleris.
The scheme is being launched in the run up to the IYA2009 Cornerstone Project, Galilean Nights, which will see amateur and professional astronomers around the globe taking to the streets on 22-24 October, pointing their telescopes to the wonders that Galileo observed 400 years ago.
"Many IYA2009 observers will be scanning the skies with all kinds of technical equipment -telescopes, binoculars, video-cameras, cameras with spectrographs - which creates an excellent opportunity to obtain supplementary data," said Ailleris. "This is also a great opportunity to engage with the general public and discuss some of the challenges astronomers face in determining various parameters such as coordinates, altitude, distance, speed and size. I hope we can use this opportunity to enthuse young (and not so young) people and prompt them to start looking upwards and outwards to make sense of their place in the Universe."
Further Information: UAP Observations Reporting Scheme website: http://www.uapreporting.org. or Philippe Ailleris (E-mail: contact@uapreporting.org)
Search IYA2009 Updates
---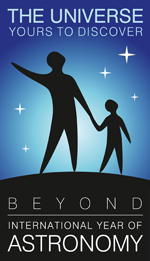 National Nodes: 148
Organisational Nodes: 40
Organisational Associates:33
National Websites: 111
Cornerstone Projects: 12
Special Task Groups: 11
Special Projects:16
Official Products:8
Media Partners:22